04.08.2019
Champions Luncheon: Treehouse Alumni Share Successes as New Program for Young Adults is Announced
More than 1,000 supporters from throughout the community celebrated together as alumni of our Graduation Success program shared stories about the challenges they've overcome and their goals for the future on April 3 at Treehouse's annual Champions Luncheon. Treehouse also announced a major expansion of services for young adults.
The three alumni in their early 20s who spoke—Paris, Leroy and Anthony—are all eligible for our new statewide Launch Success program, which will support participants in Graduation Success after high school as they work to successfully launch into adulthood.
"We asked young adults who had finished high school what we could do better," Treehouse CEO Janis Avery said in her speech. "Every one of them said the same thing: We need Treehouse with us—every step of the way—as we make the long journey into adulthood. How long is that? The timeline is different for every young adult. We know the vast majority of our youth truly want to go to college. Many of them get as far as enrolling and start taking classes, but most don't make it beyond the first quarter. This transition is difficult for all of us but especially youth who have experienced foster care."
Launch Success will partner with young adults to pave pathways to a degree or other career credential, a living wage job and stable housing.
Paris will graduate from Green River College in the fall. She is applying to historically black colleges in California and wants to get her MBA so she can run her own profitable restaurant.
"Graduating high school was a big achievement for me, but looking back on everything I've been through, graduating college will be the stepping stone to the future I envision for myself," Paris said. "It will be the proudest accomplishment so far in my life."
She's well on her way to her career goals with her own business called Bae's Kitchen on Instagram and Facebook. Her seafood fettuccine is the most popular item.
"Treehouse has been the most consistent support as I've navigated many obstacles through my life," Paris said. "They have seen me grow from a teen to a young adult and never wavered in their belief in me, even when I didn't even believe in myself."
Leroy wowed the crowd with his charisma and alto saxophone playing. He played two songs, including "Innocence" by Kenny G, his favorite performer. Leroy plays so many instruments that he joked about it being easier to name the ones he does not play. He recently graduated from Gray's Harbor College with a 3.5 GPA and has been accepted to Central Washington University, where he will attend in the fall. He wants to be a math teacher and also earn his music degree.
"I've been working really hard to become the man I am today—one that can stand here on this stage in front of all of you and talk to you about my exciting future," Leroy said. "With Treehouse's support, I had the confidence that I would make it through just about anything."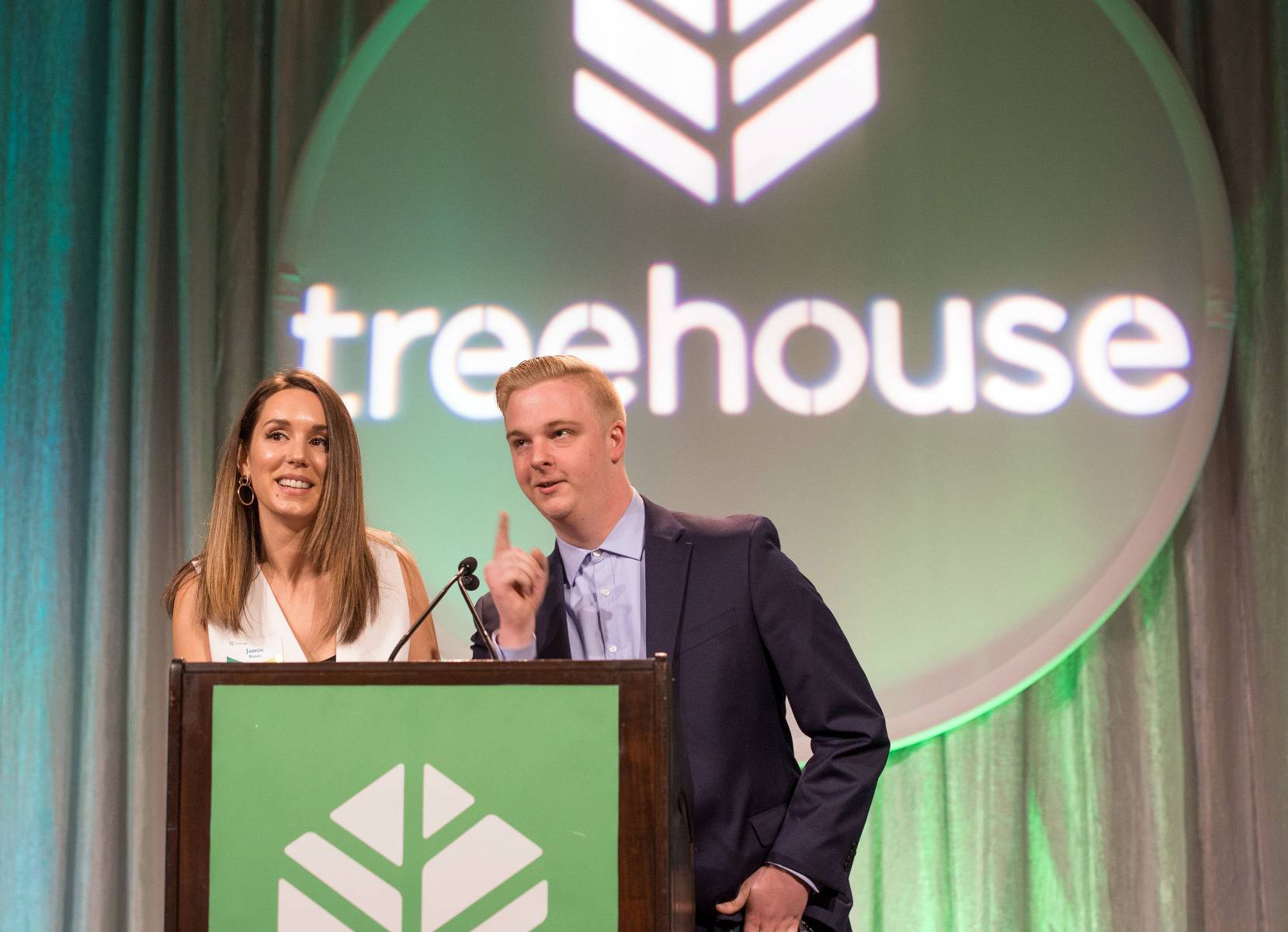 Anthony was joined on stage by his Treehouse Education Specialist Jamie Burns.
"Treehouse has supported me a lot through the years, like paying for a graphing calculator, my GED tests and school supplies," Anthony said. "I got to do a job shadow at Cornerstone Wealth Management, which was cool since I want to go into business finance. But the most important support I've had is from you, Jamie."
Jamie stressed that Anthony had to grow up fast without support from his family.
"You were able to get your own apartment, a car, insurance and a job with very little help from me," Jamie said. "I'm so impressed with everything you've accomplished Anthony."
Anthony announced that he had recently passed his GED test and has been accepted to Lake Washington Institute of Technology. He plans to earn his associate's degree and transfer to a four-year college.
Megan Holt, who has served on the Treehouse Board of Directors for three years, and Sehee Thomas, President of the Treehouse Young Professionals Board, kicked off the luncheon as co-chairs. Both are foster parents.
"Even after two years together, my girls still ask every day if they get to stay with me," Megan said. "My 7-year-old in particular is constantly afraid of change, and her needs at school are significant."
That said, she is in the first grade and reading at a fifth-grade level, has an incredible singing voice and recently rode up the chair lift when Megan and the rest of their family went skiing.
"Like all the kids Treehouse serves, she has unlimited potential, but she needs support," Megan said. "That is why I support an organization like Treehouse."
Sehee shared that when you're parenting a child in foster care, you quickly learn it's not about you or your wants. She and her husband officially adopted their daughter Myiah on Aug 30, 2018.
"It's about a child's heart and well-being—giving them a sense of belonging, safety, and security—sometimes for the first time in their life," Sehee said.

Treehouse honored long-standing partner Jennie Rush and the employees at Stifel RMG Group with the Community Partner Award.
The employees at Liberty Mutual and the Safeco Insurance Fund received the Corporate Partner Award.
Thanks to all of our Champions Luncheon sponsors for their continued support of Treehouse and youth in foster care:
Subscribe to Our Blog