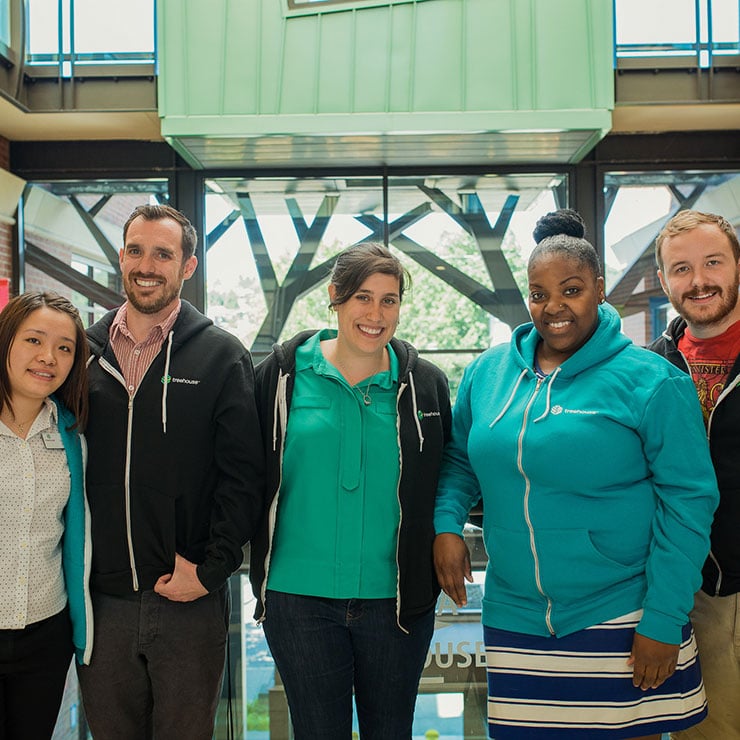 Commitment to Diversity and Equity
Treehouse values diversity and it is expressed in all aspects of our work, from the individuals and communities we serve to our organizational culture, employees and volunteers.
We understand that historic structural inequities have influenced each one of us, and we use this knowledge to deliberately cultivate the success of all people and treat everyone with dignity, humanity and respect.
Treehouse believes that our capacity to affect sustainable change is strengthened when diverse individuals, beliefs and perspectives are included. We model an institutional commitment to equity by investing resources at all levels and working toward measurable indicators of change.
---
Executive Staff
Janis Avery
Chief Executive Officer
Dawn Rains
Chief Policy & Strategy Officer
Jessica Ross
Chief Development Officer
Ray Oen
Chief Financial & Administrative Officer
Angela Griffin
Chief Program Officer
Alison Crow / Associate Director, Collaborative Analytics & Innovation
Trent Freeman / Associate Director, Marketing & Communications
Lindsay Davis / Associate Director, Development
Lynda Hall / Director, Strategic Partnerships & Initiatives
Nicole Herron / Associate Director, Resource Services
Shaunessy Jones / Associate Director, Community Engagement
Cindy Monaghan / Associate Director, Human Resources
---
Board of Directors
Amy Mullins
Chair
Tim Davis
Past Chair
Steve Petersen
Treasurer
Rich Olin
Secretary
Jill Ashton / Lytle Enterprises
Tim Bowman / Revel Consulting
Zan Brookshire / Community Volunteer
Nicholas Brown / Pacifica Law Group
Erica Buckley / Buckley & Associates
Sarah Buhayar / Bill and Melinda Gates Foundation
Amber Busch / Clark Nuber
Bre Grubbs / Leisure Care
Lauri Hennessey / Woodland Park Zoo
Kellanne Henry / Brooke Real Property Advisors, LLC
John Holt / Community Volunteer
Megan Holt / Microsoft
Lisa Hoyt / Lisa Hoyt, PhD, Inc.
Linda Hunter / Community Volunteer
Brent Johnson / KPMG
Derek Kalles / Kalles Group
Chip Kelly / Tock Consulting
Ashley Mathews / Coldwell Banker Bain
Robert Moser / Laird Norton Wealth Management
Sharmila Swenson / Puget Sound Energy
Lisa Stirgus / Harborstone Credit Union
Affshin Valji / PwC
Larry Ward / Dorsey & Whitney LLP
Dave Wilner / Auth0
Valentina Zackrone / Windstar Cruises
Emeritus Board
Paul Abodeely, Bill Adamucci, Eve Alvord, Rachel Antalek, Sue Bianco, Susan Pierson Brown, Shelly Brown Reiss, Julia Calhoun, Kimberly Darrin, Rep. Mary Lou Dickerson (Ret.), Jack Edwards, Kathy Elias, John Enslein, Juli Farris, Mike Foody, Dana Frank, Jane Fredricksen, Tana Gall, Heather Giacoletto, Suzanne Greer, Cathi Hatch, Kellanne Henry, Toni Hoffman, Rep. Ruth Kagi, Jim Kitchell, Susan Lewis, Carolyn Mallahan, Judy Marczewski, John McGlynn, Scott Merriman, Laurie Oki, Eric Parker, Patti Payne, Rhonda Powell, Scott Redman, Steve Reed, Constance Rice, Anna Rosella, Elizabeth Rudolf, Dianne Schultheis, Sheri Kersch Schultz, Rick Scott, Tom Skerritt, Tess Thomas, Julie Tokashiki, Janet True, Wendy Truitt, Chris Trujillo, Eden Waggoner, Susan Weiss, Linda Whatley, James Williams, David Wilson, Lynn Winters, Ken Withee
---
Young Professionals Board
Sehee Thomas – Base2 Solutions
President
Lakeisha Jackson – Microsoft
Executive Chair
Reyana Ugás – CASA
Executive Chair
Caitlin Blomquist / Evans School of Public Policy & Governance, UW
Jeff Boyer / GSBA
Ryan Bumrungkittikul / KeyBank
Dr. Thelben Mullett / Yukon Kuskokwim Health Corporation
Nikki Carsley / Mills Meyers Swartling P.S.
Sarah Christie / Deloitte Tax, LLP
Bart Cornelissen / Bill and Melinda Gates Foundation
Kelsey Dahlgren / Alaska Airlines
Elaine Eugenio / Farmers Insurance
Heidi Funston / Formative
Chandler Gayton / Office of King County Councilmember Larry Gossett
Justin Holzwarth / Microsoft
Elana Jimenez / Bellevue School District
Chris Kagi / Savills – Studley
Justin Keogh / Downtown Cornerstone Church
Elizabeth Klein / Hyatt Olive 8
Nate Koweda / Microsoft
Meghan Lockhart / Amazon
Allison Lombardo / GoDaddy
Maddie March / KPMG, LLP
Chris Nee / PwC Advisory Services, LLP
Jimmy Pugel / RSM
Lee Schindler / Perkins Coie
Leah Stevens / Microsoft
Laura Turczanski / Davis Wright Tremaine, LLP
Ricco Ugás / DocuSign
Katie Wall / Fusion Beads
---