01.16.2019
Knowing Bias and Discrimination Exist is Not Enough
Last fall, a colleague and I took a local high school up on an offer to provide a workshop at their first school-wide, full-day equity summit. The goal of the summit was to encourage the predominately white student population to "move forward with urgency and purpose in raising awareness, knowledge and acting on equity issues."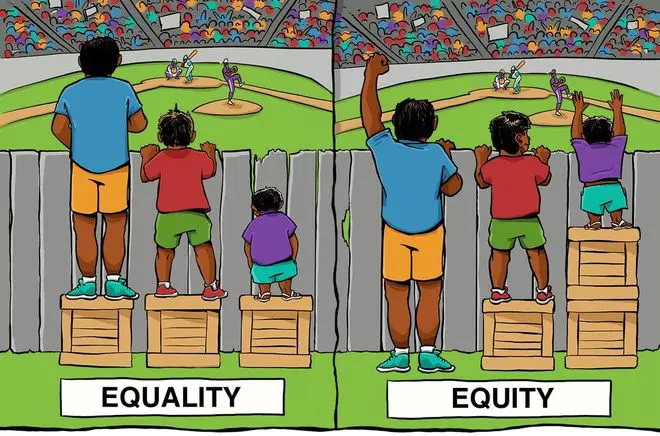 We prepared and delivered a workshop using the popular equity versus equality visual of children trying to watch a baseball game over a fence. Most of the students and the few adults participating in our workshop were familiar with the visual and engaged in our activity of determining a scenario beyond both equality and equity towards liberation.
The students were provided materials to recreate the scenes and share with their peers a vision of the future they would like to see in a world where people have access regardless of identity or ability. It was what I like to call a great teachable moment. 
I believe we take our Treehouse mission to give youth in foster care a childhood and a future to a new level through our focus on promoting racial equity. Across the Treehouse community, we are committed to promoting racial equity and directly combatting the known inequities youth of color face in the foster care and education systems.
As a team, we have been learning how unacknowledged white cultural norms in our society can be, do harm and if unchecked, will likely create inequitable experiences for our staff of color and white staff. We are exploring the intersectionality of identities and how race is a common factor that perpetuates inequity in initiatives intended to eliminate discriminations based on such factors as gender, sexual orientation, religion and age.
We also have taken a deeper look at our student outcomes by racial identity. Our teams are working to build specific interventions intended to close the gaps we know our students of color experience. Treehouse is a learning organization, and we still have so much to learn. 
In his short essay "The Purpose of Education," Dr. Martin Luther King Jr. wrote: "Education must enable one to sift and weigh evidence, to discern the true from the false, the real from the unreal, and the facts from the fiction. … The complete education gives one not only power of concentration, but worthy objectives upon which to concentrate. The broad education will, therefore, transmit to one not only the accumulated knowledge of the race but also the accumulated experience of social living."
As we begin 2019, I am taking the opportunity to heed Dr. King's call to think intensively and critically. On Monday, as you celebrate his legacy, I encourage you to recognize moments to learn from and to teach each other how to be more equitable in actions and deeds. Knowing bias and discrimination based on race exists is not enough. We must all heed the call and take daily action to promote racial equity.
Subscribe to Our Blog